10,000 Lanterns : 10,000 Wishes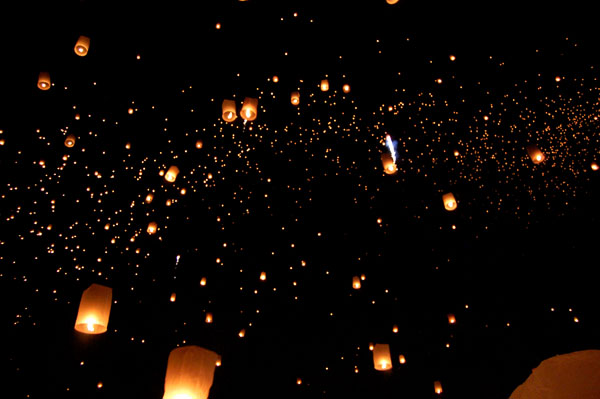 **All photos were taken by Nik.
Fifteen hours later, and I am still in awe of watching 10,000+ lanterns float through the sky.  I suspect that I will still be in awe of this moment 15 years from now.  In fact, I think I might look at these photos every single day for the rest of my life.  And the most amazing part is that not only did 10,000+ lanterns float through the sky; 10,000+ people launched them into the sky, and Nik and I were among them!
The Buddhist tradition states that when you release a lantern, Kome Loy, into the sky, you are releasing your misgivings and are to make a wish.  This cleansing ritual makes it difficult to think of anything but how beautiful our lives are as we watched everyone's wish float toward the heavens.
My wish is to celebrate Loy Krathong with my entire family through the act of releasing Kome Loy into the sky!
I also took a short video of the main release that Nik put to music.  You can watch a high quality version here on YouTube.  It is amazing!!!!
Nik also posted a lot of photos from our day of beauty: Fire in the Sky

The Floating Lantern Ceremony is part of Northern Thailand's Loy Krathong Festival, also known as Yee Peng, and is held at the Buddhist Meditation Center, Tudong Ka Sathaan Lanna, behind the Mae Jo Agricultural University in San Sai District, Chiang Mai.